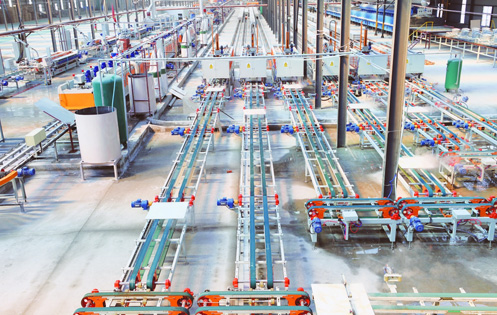 Ceramic industry
In recent years, with the rapid development of China's ceramic industry and the formation of the status of the world's ceramic manufacturing center, the innovation and development of China's ceramic machinery and equipment has been vigorously promoted. Whether from the type, quantity, quality or technical content of products, China's ceramic machinery and equipment have entered the world's advanced level. Nowadays, from the single machine design and manufacturing to the whole line design and integration, China's ceramic machinery is an important force in the world's ceramic technology and equipment. Since 1987, Xingguang transmission has been serving the ceramic industry for 30 years. Its products are applied to the whole line transmission solutions of ceramics, such as ball milling and mixing, embryo forming, drying and firing, glaze line transmission, deep processing, packaging, etc. Suitable for starlight reducer: JWB-X stepless transmission, K / F / R / s four series gear reducer, NCJ gear reducer, snkg200 glaze line special reducer, XGK hypoid gear reducer, RV worm reducer, B / JXJ cycloid pinwheel reducer and other products.
COMPANY PROFILE

SERVICE NETWORK
Service concept: localized service, face-to-face service, one-to-one service. Service Area: The products sell well in China, and are exported to more than 20 countries and regions in Europe, America, Middle East, Southeast Asia, etc.

SERVICE NETWORK
Provide overall transmission solutions to high-end equipment manufacturing industry. Wisdom extensively serves ceramics, glass, woodworking, high-voltage switch, food and beverage, packaging and printing, warehousing and logistics, lifting and transportation, parking equipment and other equipment manufacturing and application industries, specializing in providing professional products and services for middle and high-end users.

SERVICE CASES
End users, host clients, research institutes China Huaneng, Taiyuan Iron and Steel Group, Zhonglian Heavy Branch, Hengtian Group, Howard Woodworking
CUSTOMER SERVIC
CONTACT US
In the future development, Starlight will carry the core values of "customer achievement, diligence and simplicity, self-criticism, innovation and enterprising, honesty and trustworthiness, teamwork". It will focus on customer needs and provide competitive driving solutions with the management concept of "quality creates value".
0086-0757-66639870
sales@djzxdl188.com
No. 10 Huijin Industrial City, Baini Town, Sanshui District, Foshan City, Guangdong Province
CONTACT US